Page 50 - NG_2019.indd
P. 50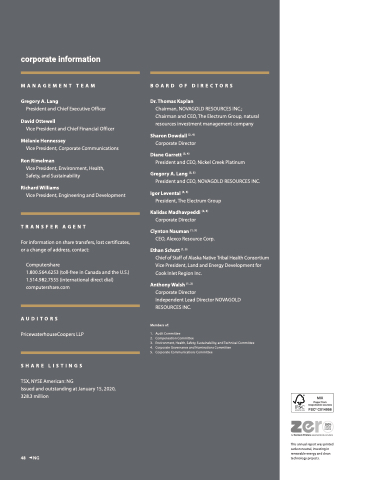 corporate information
MANAGEMENT TEAM Gregory A. Lang
President and Chief Executive Officer
David Ottewell
Vice President and Chief Financial Officer
Mélanie Hennessey
Vice President, Corporate Communications
Ron Rimelman
Vice President, Environment, Health, Safety, and Sustainability
Richard Williams
Vice President, Engineering and Development
TRANSFER AGENT
For information on share transfers, lost certificates, or a change of address, contact:
Computershare
1.800.564.6253 (toll-free in Canada and the U.S.) 1.514.982.7555 (international direct dial) computershare.com
AUDITORS
PricewaterhouseCoopers LLP
SHARE LISTINGS
TSX, NYSE American: NG
Issued and outstanding at January 15, 2020, 328.3 million
BOARD OF DIRECTORS
Dr. Thomas Kaplan
Chairman, NOVAGOLD RESOURCES INC.; Chairman and CEO, The Electrum Group, natural resources investment management company
Sharon Dowdall (2, 4)
Corporate Director
Diane Garrett (3, 4)
President and CEO, Nickel Creek Platinum
Gregory A. Lang (3, 5)
President and CEO, NOVAGOLD RESOURCES INC.
Igor Levental (4, 5)
President, The Electrum Group
Kalidas Madhavpeddi (2, 3)
Corporate Director
Clynton Nauman (1, 3)
CEO, Alexco Resource Corp.
Ethan Schutt (1, 5)
Chief of Staff of Alaska Native Tribal Health Consortium Vice President, Land and Energy Development for Cook Inlet Region Inc.
Anthony Walsh (1, 2)
Corporate Director
Independent Lead Director NOVAGOLD RESOURCES INC.
Members of:
1. Audit Committee
2. Compensation Committee
3. Environment, Health, Safety, Sustainability, and Technical Committee
4. Corporate Governance and Nominations Committee
5. Corporate Communications Committee
     48 NG
                                   This annual report was printed carbon neutral, investing in renewable energy and clean technology projects.