Page 35 - CX30_book_070618.indd
P. 35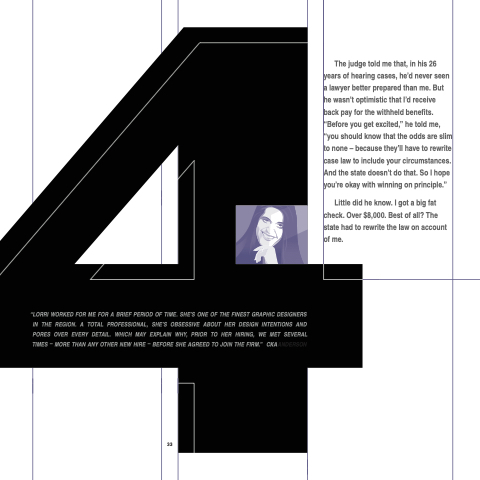 "LORRI WORKED FOR ME FOR A BRIEF PERIOD OF TIME. SHE'S ONE OF THE FINEST GRAPHIC DESIGNERS IN THE REGION. A TOTAL PROFESSIONAL, SHE'S OBSESSIVE ABOUT HER DESIGN INTENTIONS AND PORES OVER EVERY DETAIL. WHICH MAY EXPLAIN WHY, PRIOR TO HER HIRING, WE MET SEVERAL TIMES – MORE THAN ANY OTHER NEW HIRE – BEFORE SHE AGREED TO JOIN THE FIRM." CCKKAANDERSON
   33
    The judge told me that, in his 26 years of hearing cases, he'd never seen a lawyer better prepared than me. But he wasn't optimistic that I'd receive back pay for the withheld benefits. "Before you get excited," he told me, "you should know that the odds are slim to none – because they'll have to rewrite case law to include your circumstances. And the state doesn't do that. So I hope you're okay with winning on principle."
Little did he know. I got a big fat check. Over $8,000. Best of all? The state had to rewrite the law on account of me.