Page 54 - CX30_book_070618.indd
P. 54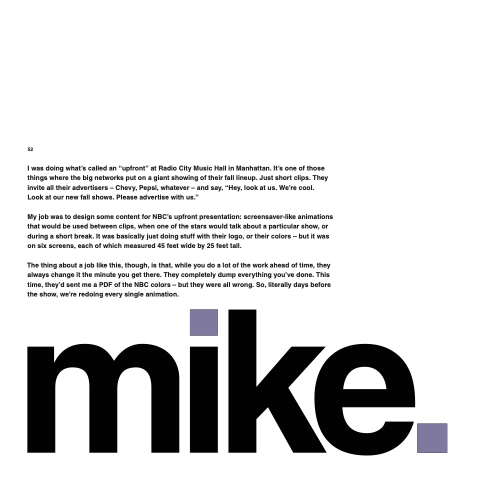 52
I was doing what's called an "upfront" at Radio City Music Hall in Manhattan. It's one of those things where the big networks put on a giant showing of their fall lineup. Just short clips. They invite all their advertisers – Chevy, Pepsi, whatever – and say, "Hey, look at us. We're cool. Look at our new fall shows. Please advertise with us."
My job was to design some content for NBC's upfront presentation: screensaver-like animations that would be used between clips, when one of the stars would talk about a particular show, or during a short break. It was basically just doing stuff with their logo, or their colors – but it was on six screens, each of which measured 45 feet wide by 25 feet tall.
The thing about a job like this, though, is that, while you do a lot of the work ahead of time, they always change it the minute you get there. They completely dump everything you've done. This time, they'd sent me a PDF of the NBC colors – but they were all wrong. So, literally days before the show, we're redoing every single animation.