Page 2 - NG_2019.indd
P. 2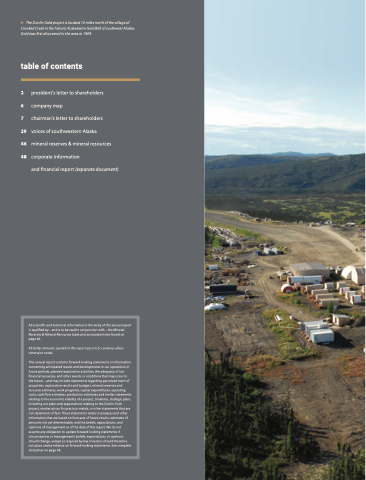 The Donlin Gold project is located 10 miles north of the village of Crooked Creek in the historic Kuskokwim Gold Belt of southwest Alaska. Gold was first discovered in the area in 1909.
table of contents
2 president's letter to shareholders
6 company map
7 chairman's letter to shareholders
29 voices of southwestern Alaska
46 mineral reserves & mineral resources 48 corporate information
and financial report (separate document)
   All scientific and technical information in the body of this annual report is qualified by – and is to be read in conjunction with – the Mineral Reserves & Mineral Resources table and associated notes found on page 46.
All dollar amounts quoted in this report are in U.S. currency unless otherwise noted.
This annual report contains forward-looking statements or information concerning anticipated results and developments in our operations in future periods, planned exploration activities, the adequacy of our financial resources, and other events or conditions that may occur in the future – and may include statements regarding perceived merit of properties, exploration results and budgets, mineral reserves and resource estimates, work programs, capital expenditures, operating costs, cash flow estimates, production estimates and similar statements relating to the economic viability of a project, timelines, strategic plans, including our plans and expectations relating to the Donlin Gold project, market prices for precious metals, or other statements that are not statements of fact. These statements relate to analyses and other information that are based on forecasts of future results, estimates of amounts not yet determinable, and the beliefs, expectations, and opinions of management as of the date of this report. We do not assume any obligation to update forward-looking statements if circumstances or management's beliefs, expectations, or opinions should change, except as required by law. Investors should therefore not place undue reliance on forward-looking statements. See complete disclaimer on page 46.