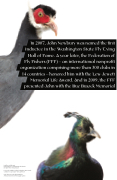 In 2007, John Newbury was named the  rst inductee in the Washington State Fly Tying
Hall of Fame. A year later, the Federation of Fly Fishers (FFF) – an international nonpro t organization comprising more than 300 clubs in 14 countries – honored him with the Lew Jewett Memorial Life Award. And in 2009, the FFF presented John with the Buz Buszek Memorial
(top) Blue-eared pheasant.
(bottom) Impeyan, or Himalayan Monal pheasant. (far right) Yellow Golden pheasant.
(cover) John caught this steelhead on the Babine River in British Columbia. It measured 421⁄2" with a girth of 24".
Unless otherwise noted, all photography by Anthony Roslund, Roslund Photography, Spokane.