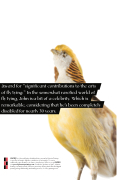 Award for "signi cant contributions to the arts of  y tying." In the somewhat rare ed world of  y tying, John is a bit of a celebrity. Which is remarkable, considering that he's been completely disabled for nearly 30 years.
PROOF! is a free publication distributed twice a year by Johnston Printing
in an effort to bring to light the contributions of area artists. To receive additional copies by mail or to share a story that you'd like to see in PROOF!, visit proof.johnstonprinting.com. Founded in Spokane in 1947, Johnston Printing is a family-owned, full-service print shop offering both offset and digital printing, along with binding and mailing services, for every printing need.