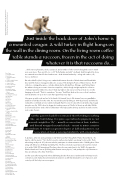 Just inside the back door of John's home is a mounted cougar. A wild turkey in  ight hangs on the wall in the dining room. On the living room co ee table stands a raccoon, frozen in the act of doing whatever it is that raccoons do...
Previous Pages:
1. Aura/Bunny Streamer
2. Black Cherry
3. Gold/Brown Dumbbell
Streamer
4. Chartreuse Dumbbell Streamer
5. Silver/Grey Zonker
6. Chartreuse Zonker
7. Olive Deer Hair Sculpin
8. Braided Perch Minnow
9. Foam Hopper
10. Braided Pearl Minnow
11. Purple Marabou Muddler
Minnow
12. Orange Dumbbell
13. Aura/Bunny Perch Streamer
14. Bucktail Zonker
15. Tan Leech
16. Brown Leech
17. Tangerine
18. Black Leech
19. Peacock Spider
20. Dubbed Draper Dragon
21. Olive Wooly Bugger
22. Grey Marabou Muddler
Minnow
23. Chartreuse Marabou Muddler
Minnow
24. Sand y Buck
25. Black Hopper
26. Dark Hexagenia Pattern
27. Halloween
28. Brown Hen Deer Hair Sculpin
29. Pink Dink
30. Dubbed Draper Dragon
31. Blond Hexagenia
32. Purple Blue-Bellied Zonker
33. Olive Shiner
34. Plum Crazy
35. Canary Spey
36. Blue Shiner
37. Fur Nymph
38. Black Marabou Muddler Minnow
39. Black Eye
40. Peacock Draper Dragon
41. Parachute Elk Hair Caddis
42. Carpenter Ant
43. Scud
44. Flash Back Nymph
45. Springtime
46. Rubber Band Dragon
47. Wiggle Damsel
48. Lady McConnel
49. Olive Scud
50. Squirrel Tail Nymph
51. Black Ass Partridge
52. Lime Bead Head Chronimid
53. Ostrich Herl Scud
54. Fry-N-Egg
55. Erv Emerger
56. Traveling Sedge Pupae
57. Parachute Elk Hair Caddis
58. Bead Headed Blood Worm
59. Water Boatman
60. Red Ass Partridge
61. Water Boatman
62. Black Bead Head Chronimid
63. Black Grif th's Gnat
64. Cream Grif th's Gnat
...while various pheasants, ducks, a peacock, and a number of other exotic-looking birds seem to watch your every move. There are  sh, too: a 36" Dolly Varden and a 42" steelhead. And throughout the house are scattered more than 20 deer head mounts – both whitetail and muley – along with caribou, elk, moose, and bison.
On a bookshelf in John's living room, sandwiched between Records of North American Elk and Mule Deer and The Venison Sausage Cookbook is a copy of The Complete Poems of Robert Service. His LP collection – arranged by genre – includes albums by the Moody Blues, Chicago, and Herbie Mann. He admits to being an eccentric obsessive-compulsive, which, though it might explain his collection
of antique typewriter ribbon tins, doesn't shed any light on why every room has at least one cruci x hanging on the wall. "That's to remind me," he says, "that Christ died on the cross so that I can have eternal salvation. It's up to me to earn that opportunity every day."
John grew up with a rod and reel in his hands. He learned how to  sh streams from one grandfather and how to  sh lakes from the other. He was introduced to  y  shing in 1978 by a friend, and when he realized he could make a more realistic-looking  y than the ones for sale at the local tackle shop, began tying his own. By 1980, when he began his teaching career in Colville, he'd met up with Jake Guhlke, a renowned local tier "and a hell of a  sherman" who helped John develop and hone his skills over the next couple of years.
(At this point it should be mentioned that  y  shing is nothing like, say, bait  shing. It requires specialized equipment to cast a nearly weightless " y" – usually a concoction of hair, feathers, and thread wrapped around a hook – meant to mimic a native invertebrate. It requires a greater degree of skill and patience, not to mention at least a passing familiarity with entomology.)
In Spokane, John met casting champion and West Coast Fly Fishing Hall of Famer Everett Caryl – the man he calls his mentor. "He's the  rst one who really noticed what I was doing," John recalls. That's when things really took off. John was asked to participate in a demonstration at the 1986 Big Horn Show along with fellow tiers Al Beatty and Jimmy Nix. The three returned a year later; John was then invited
to tie at the 1988 FFF International Conclave, where he was seated next to Lee Wulff – the man who Charles Kuralt said "was to  y  shing what Einstein was to physics," and perhaps the only  sherman to have an obituary in the New York Times.
Just  ve years after being struck with a debilitating disorder that causes random and involuntary muscle contractions, John had achieved international acclaim in a skill that demands the sort of precision and control you'd  nd only in a neurosurgeon.
"Every bird farm's nightmare," says John about the raccoon that these days takes up residence in his living room.