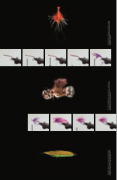 This yak hair streamer is a 4" minnow pattern that imitates the kokanee of Kootenay Lake, just north of Idaho in British Columbia. According to John, large char can't resist it.
John's "Wool Matuka Sculpin" – also known as a "steroid sculpin" – is meant for very large  sh. The body is stacked wool, which, when saturated with water, causes the  y to sink.
John perfected this sand shrimp pattern after purchasing and studying real sand shrimp. It's made almost entirely from synthetic materials.