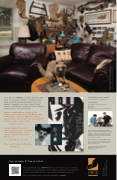 For the  fth issue of PROOF!, we headed to East Hope, Idaho, where retired commercial illustrator Gary Kaemmer paints, sculpts, and builds working model airplanes from scratch. Kaemmer's remarkable series, Famous Artists Portraits, comprises over 70 portraits of artists from Da Vinci to Basquiat – each painted in the artist's particular style.
"Superb craftsmanship is a rarity in this digital world of immediacy and illusion. One outstanding exception is PROOF!, which is astonishing and memorable with its insightful pro les of truly creative masters."
Ken Spiering, artist and educator
"I picked it up for the design. I opened it for the story. Thoughtful, clever and informative. I was engaged from the  rst sentence.
Well done!"
Rebecca Templin, Cravens Coffee Company
"They should charge for this thing..."
Colette Bottinelli, Avista
creative development, art direction, and design
Anderson Mraz Design | am-design.com
research and writing
Aaron Bragg | Anderson Mraz Design
photography
Roslund Photography | spokane.roslundphoto.com
Anthony Rolsund (r) with John Newbury.
Raised in the family's photography studios and labs, third-generation photographer Anthony Roslund honed his talents as an apprentice for his father, uncle, and grandfather (a master photographer). He now adds
to the family's 65-plus years of experience at his own studio in downtown Spokane.
Typeset in Futura with Colmcille MT display. Printed on Titan Gloss 80# text using soy-based inks along with spot gloss and dull varnishes on a Komori Lithrone 28" six-color offset press.
Photography ©2011 Roslund Photography. PROOF! ©2011 Johnston Printing.
All Rights Reserved.
Sign up today. It's free as a bird...
Get a complimentary copy of PROOF! delivered to your door twice a year. Subscribe, order back issues, share ideas about who you'd like to see featured in upcoming issues, or leave comments about what you've seen so far at proof.johnstonprinting.com.
Point your smart phone here to order a free subscription to PROOF!.
509.624.4407
159 S McClellan Street
Spokane, Washington 99201
John in the living room of his home in Chewelah.
The space in which he creates his world-renowned  y patterns is surprisingly small and deceptively low-tech.